Ladies and Gentlemen,
We would like to offer you an interesting way of spending your time in Bialowieza and the Białowieża Forest. We cordially invite you to the Bialowieza Express tour during which you will learn the history of the site, and if you are lucky you might even see the King of the Forest.
Our offer includes guided sightseeing tours of Bialowieza and its vicinity on two routes. The Bialowieza Express is 'a train on wheels' which consists of a locomotive and covered car. It can carry up to 30 adults at one time (the number rises in the case of children). The train departs from a car park situated next to the PTTK Tourist Office.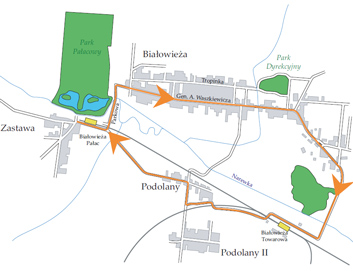 Route No. 2 leads through Bialowieza and two nearby villages: Podolany II and Podolany I. Riding along General Waszkiewicz Street, we can see monuments and the local architecture. Next, we go past the Bialowieza Hotel situated in a picturesque place from which a beautiful view of the valley of the Narewka River spreads. Then the route leads to Bialowieza Towarowa where a historic building of the freight railway station is located. It has been converted into the Tzar's Restaurant. Podolany I and Podolany II are subsequent spots on our route. And finishes at the pick-up location next to the PTTK Tourist Office. The tour lasts about one hour and ten minutes.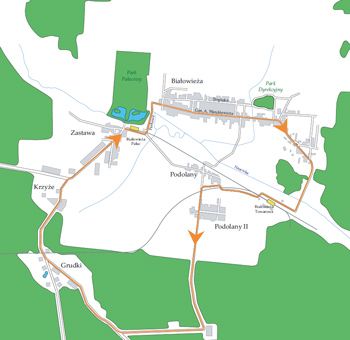 Route No. 2 is continuation of sightseeing from the place where Route No. 1 finishes. Having completed touring ( the tour ) of Podolany I we ride into the forest where its versatility can be admired. On our way we go past monumental buildings of the Bialowieza Forest District Office; the Jagiellonskie Forest Education has its seat there. Then we head to the working-class hamlet of Grudki (formerly Grodek). The border of Poland and Belarus is only 2 km away from here. We leave Grudki and go back to Bialowieza. The whole tour takes up to one hour and thirty minutes.
Apart from touring the above-described routes, we also offer services such as:

- transport to and from the campfire
- transport to and from different kinds of cultural/social
- other services adjusted according to individual preferences of our clients
"ECHO"
Teremiski 4, 17-230 Białowieża, tel.
692 558 843
Join us on the Bialowieza Express tours of Bialowieza and its vicinity!